After School Programs
PHPS is pleased to offer after-school programming for students K-6th grade on a semester basis.
Registration opens soon!
---
Fall 2022 PHPS After School Enrichment Programs
REGISTRATION DETAILS
Registration due 9/7
Classes begin 9/12
Classes end week of 12/9
No classes week of 12/12
Payment due in full upon registration (no pro-rating)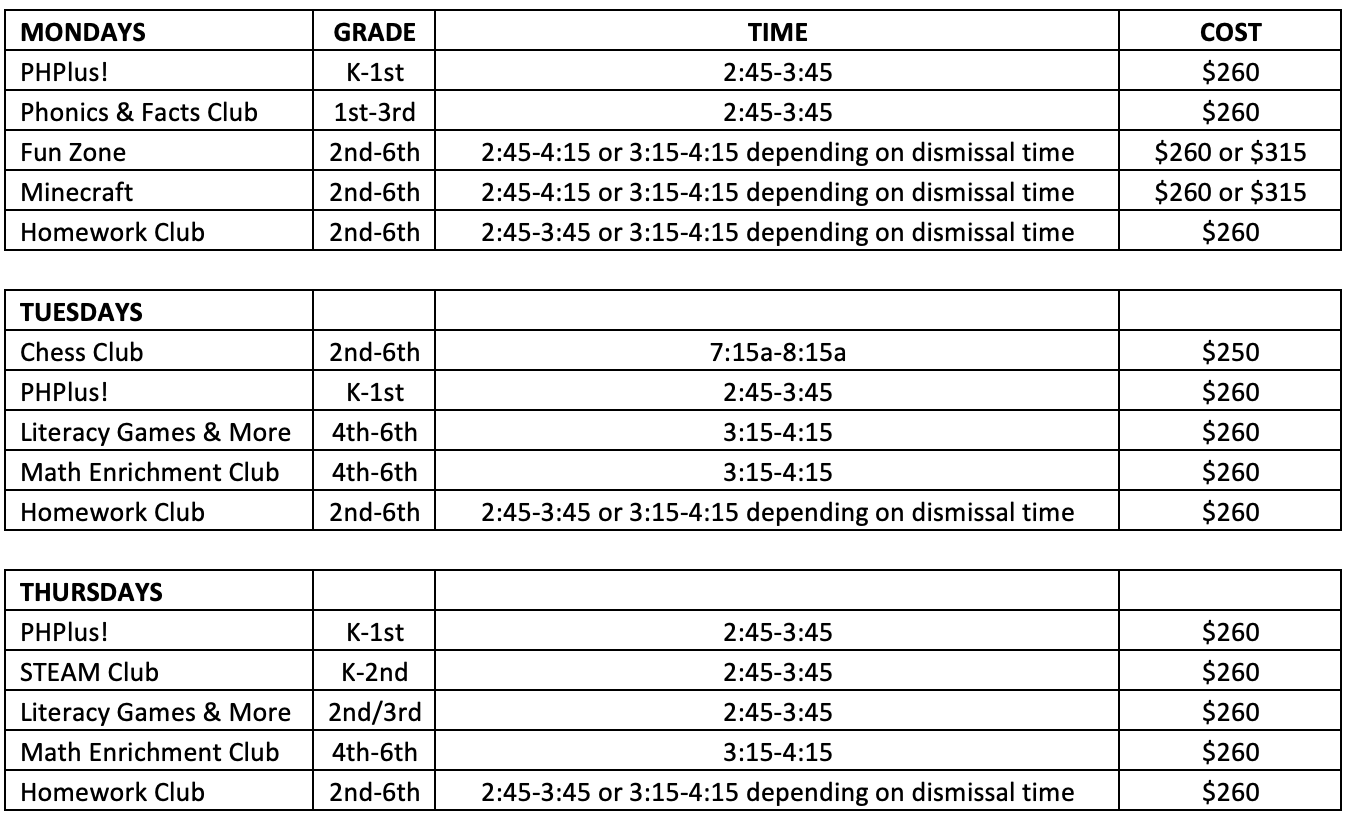 Fall 2022 After School Program Descriptions (in alphabetical order)
Chess Club
The North Texas Chess Academy will be partnering with PHPS to provide a fun, exciting, and challenging semester of chess for your child. The NTCA continues to be the innovator within the chess community. Whether your child is brand new to chess or is a chess expert, he/she will be engaged by the NTCA's experienced coaches. Classes will include strategy, tactics, current events, and more. Minimum of 6 students.
Fun Zone
Join Coach Rosen for a fun-filled semester of Fun Zone! This after-school program provides wonderful opportunities for enrichment and recreation. Students learn team-building and kinesthetic skills through a variety of games including sports and creative movement. This program will offer lots of exercise and fun for your child! Students will meet in the gym and be provided a snack. Minimum of 10 students.
2:45pm-4:15pm 2nd/3rd (includes 30 minutes of aftercare from 2:45-3:15)
3:15pm-4:15pm 4th-6th
Homework Club
Homework Club is an extra hour after school that offers additional support for students who benefit from a quiet, structured environment to complete their homework. Do the distractions from siblings, pets, and television make it difficult for your child to get his or her work done? If so, this is the perfect club to join. Your child can bring a snack and get right to work after school, allowing him or her to truly relax and unwind when he/she gets home. Teachers will be in the room to help get kids started and answer questions as needed. Please note this is not tutoring, but rather an opportunity for your child to have a teacher be present to guide, assist and explain homework for your student.
2nd grade maximum of 10 students M/T/TH
3rd grade maximum of 13 students M/TH (maximum of 26 students on Tuesdays)
4th-6th maximum of 12 students M/T/TH
Literacy Games and More
Join Mrs. Aguilar in this club with a visit to the PHPS library where students will explore the layout and gain knowledge navigating the library and discover similarities found in a public library. Students will have 20 minutes to enjoy their AR book with these minutes counting towards their AR reading time. The remaining time of the club will provide students time to enjoy an assortment of literacy games. Students will work and play together while reading skills are reviewed and applied in a supportive environment. Students are encouraged to bring an afternoon snack and their neighborhood library card. Maximum of 10 students.
Math Enrichment Club
Math Club is an extra-curricular club that will breathe new life into math beyond the classroom! Your student will meet with Mrs. Guion and other registered students to play games, and create and discover activities that dig deeper to reinforce math skills and concepts. Students will learn to enjoy math in an energetic and engaging atmosphere. Maximum of 10 students.

Minecraft
Join Mr. Green for this opportunity for students to play Minecraft with their classmates in a safe, monitored environment while learning to problem solve, work on communication skills and work as a team. Students must bring an iPad with Minecraft already installed. A snack will be provided. Maximum of 10 students.
2:45pm-4:15pm 2nd/3rd (includes 30 minutes of aftercare from 2:45-3:15)
3:15pm-4:15pm 4th-6th
Phonics & Facts Club
Join Mrs. Bush for Phonics and Facts Club where your student will have time to learn and practice the foundation of all learning: phonics and math facts! Students will practice the different sounds that phonemes make and learn their math facts with games, manipulatives, and other hands-on learning. Maximum of 10 students.
PHPlus!
Need an extra hour in the day? Introducing PHPlus! an extended care program now available for kindergarten and first-grade students at PHPS! Stay after school with Mrs. Heald in a supportive, structured environment, where your student can enjoy a snack brought from home and get started on homework with teacher guidance. Center-based enrichment and play will be available for those without homework. Minimum of 3 students and maximum of 10.
STEAM
If your child loves to tinker, build, create, explore, draw and play, let his/her creativity and problem-solving skills flourish in our after-school STEAM program for K-2nd grade with Ms.Cecilia. Each week your student will explore different components of STEAM, such as combining science with art to create amazing images, how to build a free-standing structure with various building mediums, and how habitats affect the life cycle of insects. Maximum of 12 students.